Piaget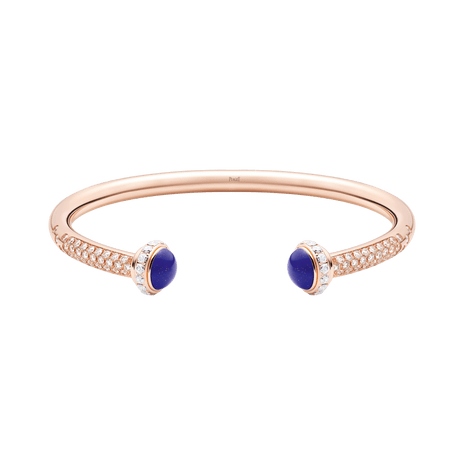 Novelty

Possession open bangle bracelet in 18K rose gold set with 90 brilliant-cut diamonds (approx. 1.00 ct) and 2 lapis lazuli cabochons.
Woman Open bangle bracelet G36PD500
From

11 600

€

13 100

€

£

11 600

13 000

€

12 800

€

12 900

€

92 500

DKK

12 900

€

11 800

€

135 000

SEK

11 900

€

12 300

€

12 900

€
VAT included
Possession open bangle bracelet

Possession rose gold diamond bangle bracelet with two lapis lazuli cabochons. Elegantly adorned with deep blue lapis lazuli cabochons, the Possession bangle bracelet becomes a colourful and supremely feminine companion embellished with a sprinkling of brilliant-cut diamonds. Playfully layered around the wrist in a joyful array of bright coloured ornamental stones and sparkling diamonds, the Possession woman can express the many facets of her personality. While one luxury bangle bracelet makes a stylish statement, a grouping of rose gold and coloured stone bracelets creates a dazzling effect around her wrist.

Rose gold, lapis lazuli, diamond open bangle bracelet

Type of jewellery:

Open bangle bracelet

Metal:

Rose gold

Metal weight (gr):

15.00

Precious stones:

Diamond

Semi-precious stones:

Lapis lazuli

Motif size width:

4.2 mm

*Piaget luxury watches and jewellery are individually produced and thus the weight and carats of each product can vary from the displayed data.