Piaget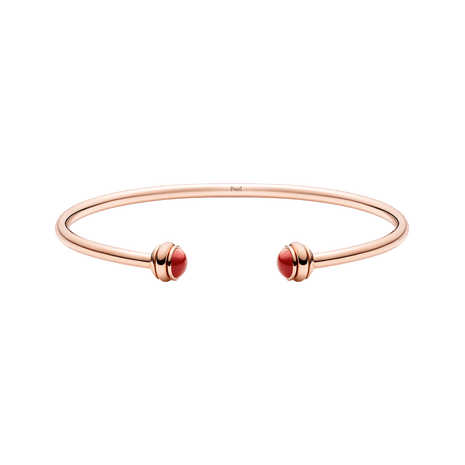 Novelty

Possession open bangle bracelet in 18K rose gold set with 2 carnelian cabochons.
Open bangle bracelet G36PC500
From

2 090

€

21 000

SEK

2 070

€

2 050

€

2 070

€

2 140

€

2 090

€

£

1 820

2 090

€

2 110

€

2 130

€

2 020

€

16 100

DKK
VAT included
Possession open bangle bracelet

Possession rose gold bangle bracelet with two red carnelian cabochons. On an elegant gemstone bangle bracelet, the iconic rings of Possession take a colourful turn, enhanced by the natural beauty of ornamental stones. The turning rings on either end of this luxury rose gold open bangle bracelet are paired with vibrant red carnelian cabochons. Piaget brings the captivating turning rings to her wrist with stylish new red coloured stones. Worn alone or stacked, the Possession rose gold and carnelian bangle bracelet is a woman's empowering and dynamic ally.

Rose gold, carnelian open bangle bracelet

Type of jewellery:

Open bangle bracelet

Metal:

Rose gold

Metal weight (gr):

6.20

Semi-precious stones:

Red carnelian

Motif size width:

2.5 mm

*Piaget luxury watches and jewellery are individually produced and thus the weight and carats of each product can vary from the displayed data.