Piaget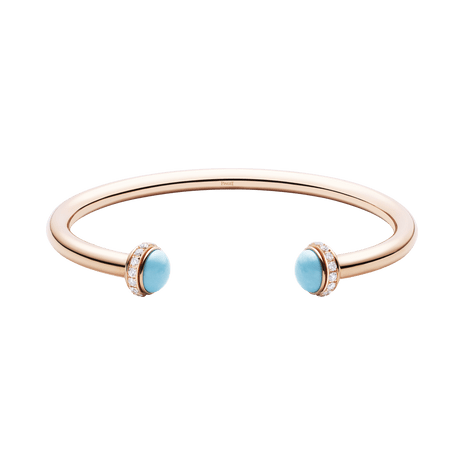 Novelty

Possession open bangle bracelet in 18K rose gold set with 30 brilliant-cut diamonds (approx. 0.38 ct) and 2 turquoise cabochons.
Woman Open bangle bracelet G36PA200
From

7 050

€

7 150

€

7 250

€

7 050

€

7 000

€

7 200

€

7 250

€

7 150

€

7 150

€

74 500

SEK

£

5 820

6 850

€

57 000

DKK
VAT included
Possession open bangle bracelet

Rose gold bangle bracelet with two turquoise cabochons featuring turning paved diamond bands. With its vibrant ornamental stones, the Piaget Possession rose gold bangle bracelet makes a colourful and playful companion. Supremely feminine and elegant, the rose gold bracelet is adorned with rounded turquoise stones at either end. A signature Possession turning gold ring paved with scintillating diamonds enhances the colour of the stone. Energising and empowering, this rose gold and turquoise creation evokes a world where anything is possible with the simple turn of a ring. The self-assured woman can wear her bracelet on its own or layered with other Possession open bangles, expressing the many facets of her personality through the colours of the collection.

Rose gold, turquoise, diamond open bangle bracelet

Type of jewellery:

Open bangle bracelet

Metal:

Rose gold

Metal weight (gr):

10.57

Precious stones:

Diamond

Semi-precious stones:

Stabilised turquoise

Motif size width:

9 mm

*Piaget luxury watches and jewellery are individually produced and thus the weight and carats of each product can vary from the displayed data.